For a half-dozen Fordham University students, the break between semesters included a week of service and the opportunity to learn about the challenges faced by families living on limited incomes. This group of energetic young men and women spent a day at SHARE, packing boxes for low-income older adults, and they did so on one of this winter's coldest days.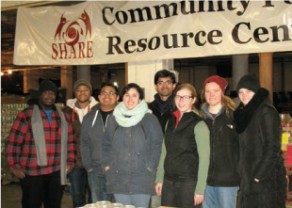 The visit to SHARE was coordinated by the Romero Center of Camden. The center provides Catholic education and retreat experiences inspired by Archbishop Oscar Romero's prophetic witness. Oscar Romero was a Catholic priest who risked his own life as he defended the poor and oppressed in El Salvador, a country in Central America, a bit south of Mexico. The center's Urban Challenge Program is built upon four fundamental components: prayer, service, education, and reflection; its guiding motto comes from scripture –
"To act justly, to love mercy, and to walk humbly with your God." (Micah, 6:8).
One of the Fordham students described the experience of working at SHARE as a privilege. All six volunteered for this week of service, choosing to do so before returning to their studies at Fordham—a Catholic (Jesuit) university based in the Bronx in New York City.