Food service employees from Thomas Jefferson University Hospital are no strangers to handling bulk food items, and during a day of service at SHARE, they put their expertise to work in SHARE's warehouse.
Organized by Jefferson's Assistant Director for Dining Services Shelley Chamberlain, the group cheerfully assembled cardboard boxes and loaded them with just the right assortment of nutritious foods. Jefferson's employees were joined by members of their own families, which brought a special closeness to the crew's efforts.
Shelley's connection to SHARE goes back at least ten years, and started through participation in the Social Action Committee at her synagogue— Kol Ami on Old York Road in Abington. That committee continues to partner with SHARE, and many members know the drill so well that SHARE's staff doesn't even have to provide instructions.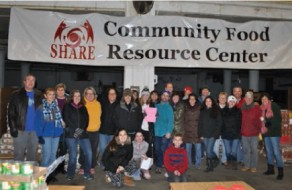 Jefferson Hospital is quite the trailblazer when it comes to promoting healthy eating — among staff, students, and patients. From May through November, it hosts a weekly farmer's market as well as a buying club that links local growers directly to shoppers. These initiatives are part of a larger plan to decrease waste and unnecessary consumption.
Community engagement is part of Jefferson's mission, and that commitment is evident in this statement: "Whether it's providing health care to those with limited access or financial capability, or simply spending a few moments reading to a neighborhood child, we see the value in renewing the health and well-being of the communities we serve — both locally and globally. Their future is our future. This commitment to volunteerism lives on today in some very vibrant ways …" Clearly, it lives on at SHARE.